Custom Garages

Everything you need to consider for your garage addition.
How to effectively plan out your garage addition
Garage additions are a great investment that adds value to your home and can create a highly functional garage that you will both love and appreciate. Too often, customers complain about previous contractors, the process, or that they were not happy with the final product. In an effort to offer our customers the best possible quality and customer service, this page is dedicated to helping you think about the various aspects of building a garage addition before anyone starts digging.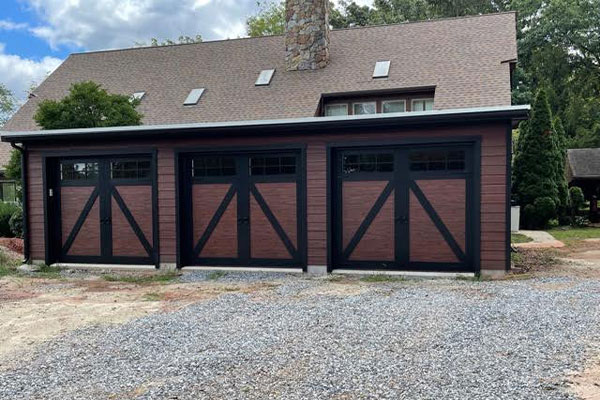 Step 1:

Research Your Zoning Laws (or ask us to)
Mill Run Builders assists in determining the zoning laws in your area. These laws are an important, mandatory step one in the process because this research will tell you whether getting a detached two car garage is even legal at your current residence. Proper zoning information will break down a few things for you and answer some of the following questions. What are the size limitations? How far away does the garage need to be from the curb or neighbor's property? Are there any additional special requirements such as draining requirements or even special roofing requirements? Mill Run Builders can help you figure out what is possible with your current property so you can appropriately get a garage that fits your needs within the budget you set forth for your new garage addition.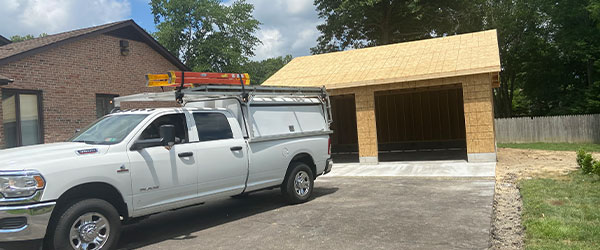 Step 2:

Do you want a single or double car garage?
Now that you know what the zoning laws are for your property, you can now get into the real fun of adding a garage to your residential home. To give you a basic idea of where to start, a single car garage should be about 14 feet to 20 feet. If you want to upgrade to a two car garage to add to your home, a good starting point is approximately 20 feet by 24 feet. Obviously, this may vary based on your zoning requirements, but this should give you a good idea of how big your garage needs to be to fit the one or two cars in your new residential garage addition. If you are planning on getting some work done in your garage too, estimate an additional 6-8 feet to fit a comfortable sized workbench and/or storage area. If you can add a few extra feet without interfering with the zoning requirements, do it. You will appreciate the extra storage space to get the most out of your new garage. As a final note, consider how high you want your garage to be. Does it need to fit a really tall truck? Do you want storage above your vehicles? Do you have secret mechanic skills and plan on purchasing a car lift so you can easily work underneath your vehicle?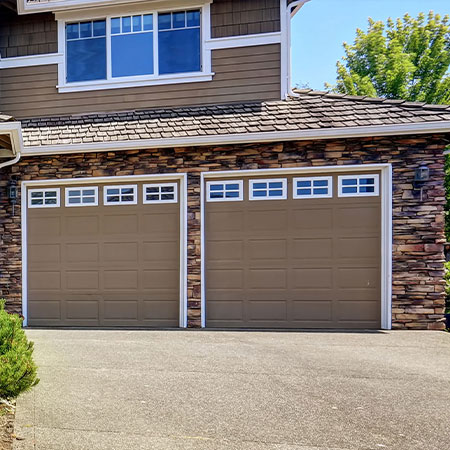 Step 3:

Do you want an attached or detached garage?
In most cases, we highly recommend an attached garage. This usually results in the least amount of problems with zoning and offers several other advantages. An attached garage allows a seamless transition from home to car which you will appreciate when you're late to work and it is pouring rain. An attached garage will also benefit from being directly attached to your house and will maintain its temperature much better because of the shared wall. An attached garage may be beneficial as detached garages tend to not only cost more to build, but also incur an additional cost/fee from some townships compared to an attached garage. One of the biggest benefits of a detached garage is the noise reduction. If you are planning on being busy in your garage turning on loud power tools, a detached garage will do a much better job at reducing the amount of noise that reaches your home.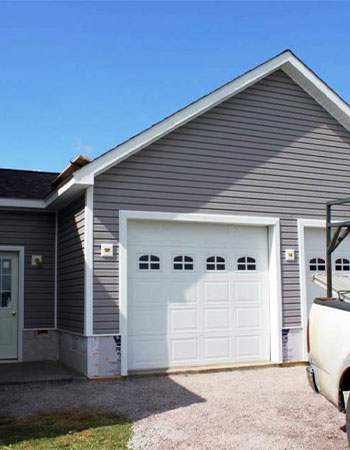 Step 4:

How will your driveway flow into your new garage?
You may need to add some asphalt to your existing driveway in order for the new garage to marry to your existing driveway. You should plan on this unless you have a pre-existing carport and are planning on installing/constructing the new garage where the existing carport is. For most single car garages, a 10-14 foot wide driveway should cover you. For most double car garages, a 20-24 foot wide driveway should meet your needs. Keep in mind, trees, local laws, and other special requirements may come into play requiring your driveway to be extended.
Step 5:

Choose a construction company that also does roofing and siding.
The garage, regardless of how many cars it can hold or whether it is an attached garage or a detached garage, is most likely going to need to be an extension of your home's current look. That means you need to think of your garage as an extension of your existing home and plan on hiring a company, like Mill Run Builders, that can do roofing and siding work to match your home's current design or style. If your roof or siding is very antiquated or falling apart, Mill Run Builders will give you an excellent combination quote to do everything as a package deal - which in almost every single case results in a nice discount compared to us performing just a single service for you.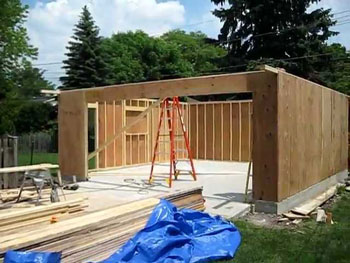 Step 6:

Since your adding a garage, do you need to add in-laws quarters, secondary living spaces, or additional storage above your garage?
At the least, it may be beneficial to add some height to your new garage so you can have the option later to use the additional space above your vehicles to store common household seasonal items (like Christmas lights, Halloween decorations, etc.), but this space can also be a great place to store bikes, seasonal clothes, etc. - the sky is the limit! Some customers are also highly interested in adding a secondary living area or in-laws quarters for their family. If you add a garage and later add this secondary living area, this will greatly increase your total expenditure on the two separate projects. So we highly recommend doing both at the same time - which can save you thousands of dollars in the long run.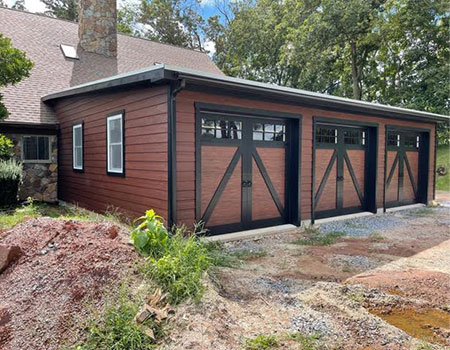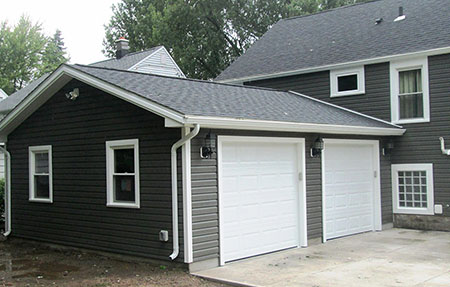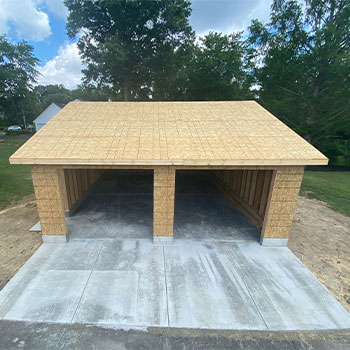 message the experts
Below is a list of areas/cities that we commonly service. We also service a variety of locations in the tri-state area including Pennsylvania (PA), Delaware (DE), & New Jersey (NJ).